Fife Commerce Center

Fife, Washington

This 40-acre project with 800,000 SF in two buildings is located in Fife, Washington, and was built in 2005. The project had previously been designed by another architect but had never been built. Two years later the owner, Northwest Building LLC approached Paul McCormick because of Paul's reputation for designing millions of square feet of some of the most successful industrial projects in the Puget Sound region.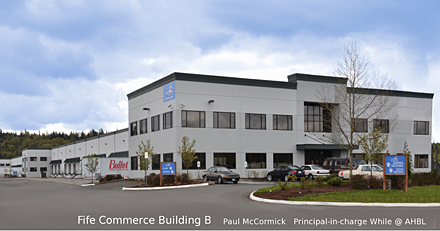 Paul proposed the owner not proceed with the previous project design as they had intended to do, and instead proposed changes to the project that were necessary in order to lease this space effectively. Northwest Building listened to Paul's advice and as a result the building was leased before construction was complete, to Coca Cola making this project the single largest lease in Pierce County up until that time. Paul McCormick was Principal in Charge, designed in 2007 while he was CEO of AHBL.