Government & Department of Defense - Featured Projects

Click on image for additional information.

John Patterson assisted Fort Lewis in setting up their first Job Order Contract (JOC) and Multiple Award Task Order Contract (MATOC) several years ago, writing standardized specifications and providing guidance and assistance in other aspects of such contract administration, and has done much of the JOC and MATOC abbreviated design work for Fort Lewis since JBLM adopted the concept. Additionally, John "wrote the book" at Fort Lewis regarding design standards. He developed the Design Standards and the original DPW web page for Fort Lewis Public Works and is thus intimately familiar with the site and end client requirements. John has personally maintained continuous ongoing department of defense contracts since 1984, and today continues to be in charge of all INNOVA Architects Department of Defense projects. John has made the field of IDIQ's and abbreviated design type contracts a specialty. Capabilities Statement
| | | |
| --- | --- | --- |
| Fort Lawton Band Center | McChord Field Fire Station | Kimbro Pool Renovation |
| Rainier Inn at Fort Lewis | Red Cross Hostess House | Eielson Air Force Family Housing |
| Denali Village Army Family Housing | Siku Army Family Housing | &nbsp |
---
INNOVA is presently performing AE design services for fourteen D/B projects for two GC's at Madigan Army Medical Center (MAMC) on Joint Base Lewis McChord (JBLM).
---
MADIGAN ARMY MEDICAL CENTER (MAMC)
These facilities represent the largest military hospital on the West Coast, some 1.2 million square feet. They were state of the art when constructed and completed in 1988, but are now undergoing comprehensive repair and modernization work. Three of these projects are "construction complete". One, is a replacement of several fire alarm transmitters, another is a repair by replacement of the drive-up Pharmacy pneumatic tube system, and the third is a roofing project on an older building.
1. Repair Roof, Building 9904, Regional Armed Forces Blood Donor Center
This project is construction complete, replaces a 7,330 SF low-slope roof and enhances the insulation envelope for Building 9904, Madigan Annex. This structure was originally built in 1944 as a military dining facility. Over the years it has served that function, been used as a service club facility, a medical pathology laboratory, and a blood donor facility. It is currently in use as the Regional Armed Forces Blood Donor Center. INNOVA/ORB did the comprehensive remodel of the DFAC several years ago, and it was laid out and equipped for blood donation, lab work, and storage as a Regional Blood Donor Center serving MAMC. The roof replacement under this Task Order was designed by INNOVA for the D/B Contractor.
2. Repair Drive-Up Pharmacy Tube System at Madigan Army Medical Center
The goal of this work was to repair the existing drive up pharmacy tube system by replacement of head-end equipment, tube, electronics, audio, external drive up units (local and remote), and all other associated items necessary at Madigan Army Medical Center, Joint Base Lewis McChord. The drive-up pharmacy tube system consists of the head-end area in which staff interacts with patients driving up to medication receptacles.
3. Replace Fire Alarm Transmitters, MAMC and Madigan Annex
This project included replacement of the Fire Alarm Antennas and Transmitters for buildings 9040 (The main MAMC Regional Hospital), Building 9573 and Building 9999; Madigan Army Medical Center, in accordance with all Federal, State, and Installation codes and laws. Work was accomplished in accordance with applicable guidance, references, and regulations. Construction is complete.
---
10 CURRENT "DESIGN COMPLETE" PROJECTS AT THE MADIGAN ARMY MEDICAL CENTER
1. Day Of Surgery Waiting Room Expansion
The goal of this project is to expand the present 2nd floor Day of Surgery waiting and processing area by removal of one wall and door and providing a new wall and door to grow the primary waiting area by approximately 200 SF, renew/repair architectural finishes (incorporate the design recommendations of the MAMC Interior Design Master Planning l00% Report), and improve the environment of care.
2. Repair Life Safety Deficiencies, MAMC Building 9040
This Task Order required us to perform a comprehensive, 5-month-long survey of all areas of Building 9040, the Regional Hospital at Madigan (1.2 million SF plus a like area of interstitial space) to identify and repair various Life Safety deficiencies in accordance with all Federal, State, Installation and MAMC Codes and Laws, Safety Procedures, Standard Operating Procedures, and Manufacturer Requirements. The completed Project will result in correction of the various identified Life Safety deficiencies. The Survey is complete and construction drawings are underway.
3. Modify 2 South Nurses Station, MAMC
The existing 2nd floor South inpatient ward is located in the Nursing Tower at MAMC; it was designed to accommodate inpatient services with rooms for single and multiple patients. This project reconfigures the existing Nurses' Station to provide a more usable reception counter and Nurses' Working Area, and repairs the existing architectural finishes of the area to improve the aesthetic quality of the patient care space to create a more comfortable healing and work environment for patients and staff. It is "design complete" and construction will commence in August.
4. Renovate Pathology Lab Waiting Room, MAMC
This project is design complete and under construction. It reconfigures the main Madigan Medical Center Pathology Lab Waiting Room entry doors, renews/repairs interior architectural finishes including replacement of linear ceilings with suspended acoustic ceilings, incorporates the design recommendations of the MAMC Interior Design Master Planning l00% Report, improves the environment of care, provides compliance with regulations/standards, and meets the safety requirements and current health standards in the waiting room area. Scope also includes reconfiguration of the reception station to provide three ADA and HIPPA-compliant check in stations.
5. Repair Building 9913B Auditorium, Madigan Annex
Building 9913 is originally built in 1944 as an auditorium. Over the years it has served that function and is used for various in-house training and class functions. This project completely renovates the building for continued use for the same purposes. Project scope includes cosmetic upgrades to the auditorium space but complete gut and remodel of the supporting toilet rooms. The renovation includes relevant interior demolition (including addressing ACM/LBP environmental issues) and refinish/remodel; with ADA compliance at toilets and minor rework of HV and electrical systems. It is presently under construction.
6. Letterman Auditorium Upgrade, MAMC
The goal of this work is to upgrade Letterman Auditorium (on the G Level of the Outpatient Medical Mall) including replace flooring, remove/replace seating, resurface the walls, patch and paint, upgrade power, upgrade lighting, upgrade HVAC and create a control room in the left rear corner of the Auditorium. Design is complete, construction will commence shortly.
7. Repair Miscellaneous Waiting Rooms, MAMC
The goal of this work was to renovate three existing miscellaneous waiting rooms on the 2nd floor of the Nursing Tower; Rooms 2-27-1, 2-27-18 and 2-34-1. Work scope includes renew/repair interior architectural finishes including replacing carpet tiles and cove base, replacement of linear ceilings with suspended acoustic ceilings, provide chair rails, new lighting and power/USB outlets, and paint. Design is complete, construction will commence shortly.
8. Repair Dental Clinic Casework, MAMC
Madigan has a comprehensive dental clinic, equipped for dental and facial treatment and surgery functions. The goal of this work is to repair all casework in fourteen (14) dental exam and treatment rooms, replace flooring in seven (7) treatment rooms, paint the existing ceiling grid and install new ceiling tiles, paint door frames, and remove/replace various appurtenances. Design is complete, construction will commence shortly.
9. Repair OR and Cath Lab Lighting, MAMC
The goal of this work is to perform complete repair/replacement/retrofit of the room lighting in the Surgical Room OR's (14 ea), Cardiac Cath. Lab procedure rooms (2 ea), Urology procedure rooms (6ea) and the Dental Clinic procedure rooms (8 ea). The lighting fixtures will be repaired/replaced/retrofitted with new lighting assemblies to provide the required illumination level. The configuration of the fixtures was duplicated to provide emergency lighting in case of power failure to the rooms and provide easy and quick maintenance access. New light fixture selection was as directed by MAMC/FMD. Design was completed recently, construction is being scheduled based on OR (Operating Room) availability.
10. HVAC Controls and Air Compressors, MAMC
The objective of this project is for the Contractor to provide all labor, materials, and equipment necessary to perform replacement of three (3) large HVAC Control Air Compressors units and all associated piping and controls at Madigan Army Medical Center, Joint Base Lewis McChord in the Ground Level Crawl Space. Design is complete and construction will begin shortly.
11. Modify Lab Processing Areas, MAMC Core Laboratory
The goal of this work is to repair interior finishes and provide all necessary power and utilities connections throughout the Core Laboratory in Rooms G-47-1 and G-47-2 for installation of new lab processing equipment by others. Unfortunately the new lab equipment and layout plan has yet to be finalized. We anticipate sufficient information to complete the design (presently 95% complete) in August 2016.
---
ALASKA & COLD REGION EXPERIENCE
All of the facilities below were designed and constructed to Alaska and Cold Region requirements and standards, i.e. enhanced insulation envelopes, moisture barriers and humidity control, building on permafrost, Inverted Membrane Roofing Systems (IRMA), daylighting, and environmental issues.
2011 - RFP and Design for new Boat Launch Dispatch Building for MWR Recreational Services
Immediately adjacent to the Seward Harbor at Seward, Alaska. A two story, 30'x40' wood framed, hardiplank-sided, metal-roofed building with covered porch that provides a central, waterside facility for fishing boat rental, maintenance, and an upper-level classroom/meeting room. ECC was $720k.
2009-2011 - RFP, Concept Design and Title II services for Construct Community Activity Center
Fort Greely, AK near Delta Junction. A 31,100 SF multifunction facility which includes an 8-lane bowling center, electronic games room and arcade, TV room, classroom/meeting rooms, indoor play, food and beverage services, and full-kitchen facilities, dining area, and parking for up to 115 vehicles. ECC was $1.6 million.
2010 - Renovate Bowling Lanes
Fort Wainwright, AK. Cosmetic upgrades to an existing 32-lane bowling center including replacement of all equipment with Brunswick VECTOR systems. A complete remodel of the existing Snack Bar was also designed but was not funded. ECC was $902k.
2008 and 2009 - RFP, Concept Design and Title II services for Construct 185 room Army Lodge
Fort Wainwright AK. A 100,000 SF, two story, 185 room extended stay type lodging facility, most rooms with mini-kitchenette facilities. Also included were central check-in desk and lobby, continental breakfast style limited food prep and dining areas, central laundry, and children's playground, and 145 vehicle parking area. ECC was $4.25 million.
John Patterson CMSgt (Ret.) - Cold Region Experience
Assigned to Alaskan Air Command Headquarters, performed duties in Planning and Programs Division including ARSMAR (Annual Report, Survey for Maintenance, and Repair) for all 19 remote USAF locations in Alaska. Visited all 19 sites on an annual basis, determined repair requirements, made estimates and orders for materials from lower 48. Member of USAF Cold Regions Site Selection Team. Developed Survey and Construction methodology for expedient construction in arctic climates, working with Army Cold Regions Research & Engineering Lab (CRREL).
INNOVA PROJECT LOCATIONS ACROSS CONUS, HAWAII, AND ALASKA
This includes INNOVA Medical and Healthcare,
in addition to Government DoD projects.
INNOVA Healthcare & Medical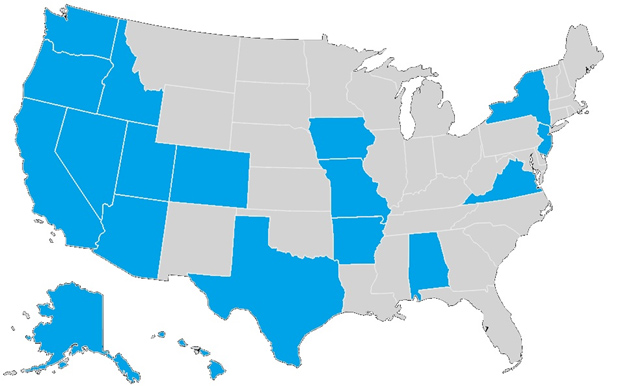 From West to East, INNOVA works in Hawaii, Alaska, Washington, Oregon, California, Nevada, Idaho, Utah, Arizona, Colorado, Texas, Iowa, Missouri, Arkansas, Alabama, Virginia, New York, and New Jersey.
Click Here for a list of additional recent Government/DoD projects.