Siku Basin Army Family Housing

Ft. Wainwright, Alaska

The ORB Architects (now a part of INNOVA Architects) and Osborne Construction Company design-build team designed and constructed 126 housing units on approximately 40 acres of undeveloped land at Fort Wainwright, Alaska. The 3-, 4-, and 5-bedroom units house U.S. Army Junior and Senior Noncommissioned Officers and their families.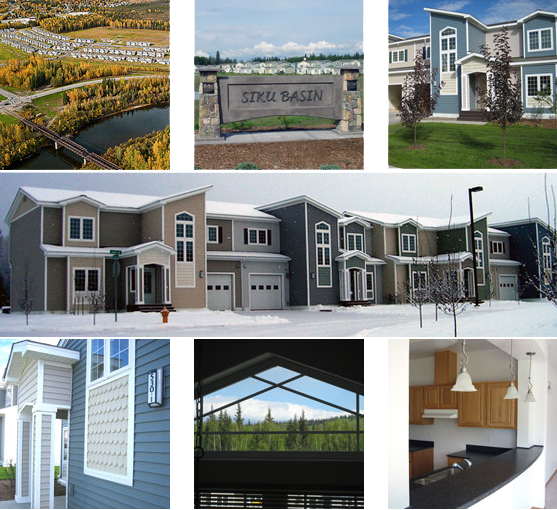 The aim of this project was to accommodate a large number of families with attractive homes that offered high durability and required little maintenance. The Army viewed this as an opportunity to enhance soldier retention through a more creative housing approach. The design pushed the envelope, not settling for a style of the past where each unit looked uniform. Rather, the units emphasize both individuality and community. With unique colors, rooflines, and facades, the units vary from their neighbors on either side. The clustering of units allow for more shared space within the development, including greenbelts and children's playgrounds, encouraging the fellowship of community.
ORB Architects was involved in all aspects of the project, including providing full architectural design services, conducting site visits, site planning services and construction administration.
The ambitious project schedule presented one challenge, as did the site itself, which required complex site work, further complicated by the difficulty of permafrost conditions and an abbreviated construction season due to the sub-arctic climate. Additionally, this was the first Fort Wainwright housing project designed to utilize Fairbanks municipal utilities, rather than Base utilities, which required a high level of coordination with four different municipal utilities in both the design and construction phases of the project.
Despite these challenges, each phase of the aggressive turnover schedule was completed at least three months early and the project was approximately $400,000 under budget – even with the implementation of numerous improvements made during construction for the benefit of the users and to reduce life-cycle maintenance cost. As a result of the early completion, Fort Wainwright soldiers received 10,686 additional days of occupancy.
KEY PROJECT FEATURES:
Design and construction of 126 Total Family Housing Units
Site Development for Utilities, Roads, Sidewalks
Play Areas
Construction Cost: $72 million
Completion Date: September 2008