Orion Aerospace
Auburn, Washington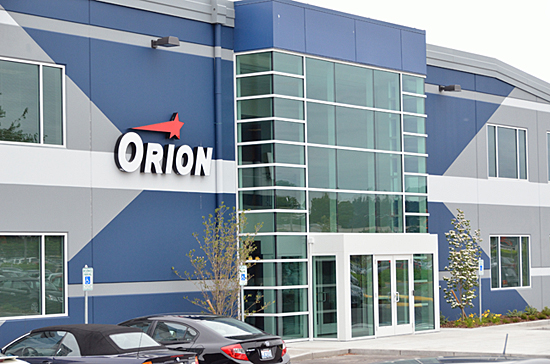 INNOVA Architects was hired to develop a new 80,000 SF manufacturing plant for Orion Aerospace. The facility included over 20,000 square feet of two-story office space, a 5,000 SF call center and 60,000 SF of manufacturing floor area.

Orion Aerospace is a non-profit company with three core businesses; one manufacturers aluminum parts for Boeing, another trains individuals without job skills and places them in manufacturing jobs, the third provides call center services.
The project is located adjacent to the Auburn Airport and required the building to be truncated at the roofline to accommodate the FAA height limitations. We disguised this roof slope by creating a paint scheme to reflect the angles of the roof while creating an aerospace theme.