Port Commerce Center

Fife, Washington

Paul McCormick was asked by Northwest Building LLC to design this 28-acre site on Port of Tacoma property. The site includes rail service and easy access to the Port of Tacoma. The first building was a 598,400 sf concrete tilt-up warehouse facility with 4-foot loading docks, associated asphalt parking and trailer storage areas, and concrete loading dock and pads. The first building was designed with the flexibility to accommodate either one, two, or three tenants. A second building of 300,000 sf was planned at the same time.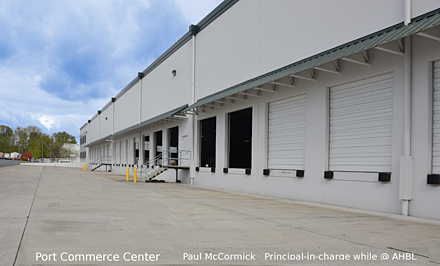 Due to site topography, wetlands, flood plain issues and its close proximity to the Tidal salt water, the site design and approval process required creative engineering and negotiation skills to convince the City of Fife, DOE, Fish and Wildlife and others to agree to the proposal to develop this site. Paul McCormick was Principal in Charge for this project while CEO of AHBL. The first building 598,400 SF opened in 2008 and the second 300,000 SF building was built in 2009.