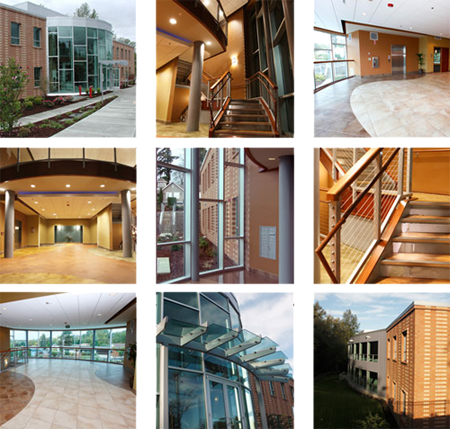 Valley View Professional Building

Renton, Washington

ORB Architects, now part of INNOVA Architects, is the designer for both the 26,000-square-foot professional office building and the tenant space that serves as our new offices. The two-story building, with an additional level of below-grade parking, is designed to be a LEED-qualifying environmentally conscious building.

Though the project site is 5.46 acres, only 1.47 acres—or 27% of the site—is developed, which allows for a green and natural environment, including a future city trail, and ensures stream water protection. The landscaping consists of native and adapted plants to reduce irrigation requirements and conserve water resources.

ORB Architects designed its new office space, which occupies half of the second floor of the 26,000-square-foot Valley View Professional Building. The office includes a reception and visitors' waiting area, individual and collaborative work spaces, kitchen and dining area, conference room, IT room, library, and storage. The space maximizes sustainability and garner credits using the LEED® point system created by the U.S. Green Building Council.

The work area reflects the open and collaborative environment, with work spaces and layout areas interspersed between individual work areas. Here, the natural light is also allowed to penetrate deep within the space with generous-sized windows, low desk walls, and translucent desk panels. The strong colors brighten up the space during seasons of diffused light.